The need to surf brought us to l'Aire de la tete de chien, sleepy french woods a short distance from the beach of Sauveterre, bliss, until we discovered we could go one further and actually live on the beach! This town will be heaving in a month or two so we have been lucky to arrive now and have all the best spots to ourselves..

We parked for our first two weeks in France at this beautiful old cheese factory. Owners Damien (who collects and sells all sorts of magical indian artefacts, which surrounded us in the courtyard of the factory) and sculptor Antione, are turning it into workshops, showrooms and living space with the help of the wonderful Caroline. We spent our time painting, drawing and printing in complete peace here and will be returning on our way back to England to check on their progress!
Powered by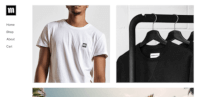 Create your own unique website with customizable templates.